What Is A
Ceramic Coating
And Why You Should Get A Ceramic Coating
Arizona Ceramic Coating's Team has done countless hours of research and testing from all of the major brands in the industry today. The truth is, like many other products, there is a wide and varying degree of quality and performance. From spray on, do-it-yourself, products … to professional grade products available only through certified installers. We look for NET thickness added to the clear coat, true durability and warranty terms with no "catch" or fine print", and most importantly the science that goes into developing them. Enter our partners and brand of choice, Feynlab USA – The industry's original and USA based laboratory for automotive paint coatings. These coatings are designed to provide these key benefits to your clear coat/ gelcoat:
Self-cleaning ability (non-porous surface)

Extreme high gloss with added coating thickness

Act as envorinmental barrier (bird drop, hard water, tree sap)

Protects against the harsh UV rays from the AZ sun

Prevent degradation from harsh chemicals

Eliminate the need to wax/ polish or seal the paint
Available For
Paint

Glass

Plastic/trim

Wheels/calipers

Vinyl Wraps & PPF

Leather/Textile/upholstery
The key to a flawless ceramic coating application is all in the hours of prep work that goes in beforehand. The team at Arizona Ceramic Coatings meticulously preps the surfaces of your vehicle to ensure that the coating is being applied to the best possible finish and that an optimal ceramic coating bond is being met. We start with a multi-phase decontamination wash, synthetic clay treatment for clear coat exfoliation, and alchohol wipe down. Once the paint decon is completed, paint color correction (machine buffing & polishing) is performed to refine the finish and level out any imperfections in the surface of your vehicle's paint. Finally, an additional alchohol wipe down is performed to further prep the paint to receive the coating. Various coatings we use can have different application and curing methods. Our single layer formula is applied in a thick, syrup like consistency. While our multi-layered and self-healing coatings are stacked on top of eachtoher and then baked onto the paint using IR curing lamps. We are proudly exclusive as the top-tier Feynlab shop in the state to offer the full range of coatings available.
1 Wash Paint decon
2 Paint Correction
3 Paint prep/decon
4 Coat
5 Level
6 *IR Cure
CERAMIC EXTERIOR

& INTERIOR TREATMENT
Protect & enhance All your car looks
To protect and enhance every inch of your car, Arizona Ceramic Coatings provides ceramic exterior and interior treatments to give you superior protection against the elements and every day wear and tear on your vehicle. With a meticulous car detailing team and industry certified installers, our Mesa detailing and ceramic coating shop is five star rated on Google, Yelp, and more!
Self Healing Coating - The ultimate paint protection - FEYNLAB™
SELF HEALING CERAMIC COATING SOLUTIONS
Our self healing ceramic coating solutions are designed to provide an extra layer of protection against the harsh elements when you're on the road. Giving you the ultimate UV and heat protection, self healing, scratch resistant ceramic coatings are the best way to keep your car looking clean, fresh, and smooth.
Enhanced Gloss & depth
Arizona Ceramic Coatings provides five star coating solutions to give your car enhanced gloss and depth, thus improving its color and strengthening the exterior of your vehicle. Speak with our industry certified installers today to take a tour of our pristine facility.
High Heat resistance
In Arizona, maintaining protection against not only heat from the sun, but asphalt, and the high heat your car operates at is essential to keeping a clean, protected coat. Trust our brand certified installers to provide you with the protection your car needs with high heat resistant ceramic coatings.
Chemical Resistance
Arizona Ceramic Coatings is dedicated to giving your car the ultimate protection against chemical contaminants that can damage your coat. Speak with our brand certified ceramic coating team to find the right protective coatings for your vehicle.
Industry leading UV resistance
The sun is an unstoppable force that can put strain on your car's coat and give it unsightly damage that can be difficult to come back from. Our ceramic coating solutions in Mesa are equipped to provide industry leading UV resistance to keep your car looking pristine and fresh.
Hydrophobic/Slick, less porous/easier to clean/less maintenance
MEET
OUR TEAM
Owners of Arizona Ceramic Coatings, Brenan and Josh, are car enthusiasts at heart, and they strive for perfection with each and every vehicle they detail. With a state of the art facility, a love for cars, and a commitment to giving you immaculate results, they utilize contacts with trusted partners and recommend only the best, personally tested products to use on your vehicle. To learn more about our car detailing and ceramic coating team, contact us today!
Ceramic Coating Specialists | AZ Auto Aesthetics
WORKSHOP
TOUR
At Arizona Ceramic Coatings, we provide workshop tours of our state of the art facility in Mesa. This property is designed to reflect our dedication to perfection. With a featured showroom vehicle of the week, well organized equipment and products, and a friendly staff, you can see how much we truly care about the services we provide. Consult with our automotive appearance experts today to schedule a tour.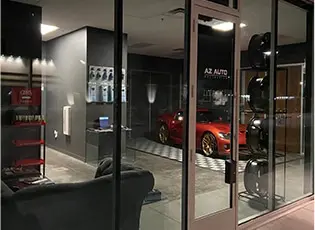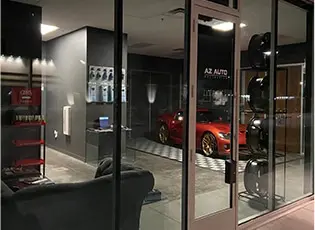 Self-Healing Ceramic Coatings
Reduce Swirls & Light Scratches.
---
Ceramic Coating Specialists.
Weatherproof & Harden Your Clear Coat.
---
Correction. Protection. Reflection.
Paint Correction | Ceramic Coatings
| Clear Bra Film
---
Arizona Ceramic Coatings is a top-rated Mesa auto ceramic coatings shop that is committed to providing you with the ultimate protection for your vehicle. Our staff are vehicle enthusiasts at heart, and will treat your car as if it is their own. We are detail oriented, and passionate about making sure that your car is looking sleek and clean, leaving no stone left unturned. With the ultimate brand certified installers to ensure that you have the industry leading protection for your vehicle, you can rest assured that vibrancy and beauty will be our top priority with your vehicle. Check out what our customers have to say about our work!
I highly recommend!!! Brenan and his crew were very professional, knowledgeable and walked me through everything,before and after. My Mercedes looks amazing!!! I'll never go through another car wash ever again. Thanks guys and I look forward to getting my monthly car wash!.
Stephanie Campbell ★★★★★
Brenan is the best! He responded so quickly to my message and got us in right away! After reading other reviews I have to agree 100%, his attention to detail is incredible and my car looked better than the day I bought it! We will be customers for life!
Joe Watt ★★★★★
After my long commute I stopped by & Brenan was kind enough to fit the work I needed on my car in after regular hours. The work they performed turned out fabulous, I highly recommend B's Wax. They definitely take pride in their work. Thank you
Gloria Vigil ★★★★★